Access to historical data, the ability to perform complex analyses, storing information from many sources - these are just some of the advantages of a data warehouse. If you run your own company and you are interested in data management and analysis in your company, then find out what data warehouses are all about..

What is a data warehouse?
The data warehouse stores all information imported from various tools and sources. There are no restrictions in this regard. Information from internal systems (e.g. CRM, ERP) and those from external providers, such as Google Analytics or other data collection tools, can be sent to it. Data warehouses allow you to build a powerful collection of historical and current information from every area of the enterprise. Therefore, they enable comprehensive insight into all data and the creation of analyzes or simulations that would be incomplete and would not give a comprehensive picture of the situation if they came from separate and smaller databases. The data warehouse has a lot of possibilities and can process the most difficult queries, while not allowing data editing, which at the same time increases their security.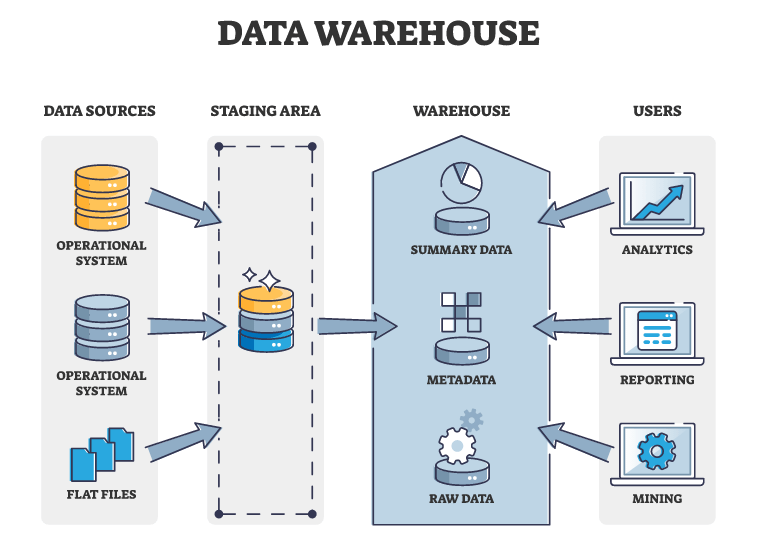 Why you might need a data warehouse?
Many enterprises use tools and systems that perform activities in real time. This requires resources regardless of the industry. Warehouse, warehouse, production, e-commerce, computing and other tools support many processes every day, they operate on current data. They cannot store historical information or perform complex analyses. It would burden the production environment and cause delays. System resources are not sufficient to handle many different processes, they are not designed for this. It is also often impossible to compile data from different sources in them. Each of the tools concerns a different part of the company's operation, and although integrations are possible, they are created for the needs of current processes. Therefore, a data warehouse will be the perfect solution.
Among other things, it will help you:
data storage and archiving
creating individualized analyzes and reports
simulating the implementation of new solutions based on available information
using modern techniques, eg. machine learning
optimization of processes in the company
finding areas that consume the most resources and generate the least profit for the company
conscious business scaling
development of the enterprise in the best direction, based on analyzes based on real data from many sources
secure data management
How do data warehouses work? Role of BI applications
Data Warehouses consist of several elements that ensure their optimal operation. The most important are the data sources - the systems from which the information is imported. The data warehouse downloads, systematizes and stores them. It includes both real-time and all previously downloaded information. This database is then used for processes that are important to the company. a.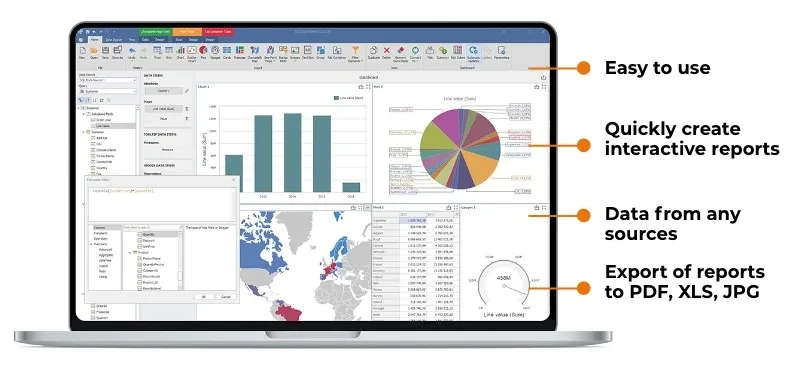 Query analytics is illustrated using systems for creating reports, charts and visualizations. They can also be used by a BI application, i.e. a business intelligence system. LSB DATA has implemented it in many companies that successfully use it for important processes. They quickly create secure, encrypted reports and analyzes that are used to assess activities, legitimacy of implemented decisions, behavior of recipient groups or study production processes. They also make it possible to organize the structure of information in the company and evaluate the financial decisions made. At the same time, they support the functioning of important departments, such as sales or marketing. The use of visualizations, analyzes and reports generated on the database by the BI application allows you to manage the company more effectively, create development strategies and acquire new customers, notice new trends in the industry and notice data important for the company's operation.
Methods of data storage - OLTP and OLAP
OLTP and OLAP differ in their application and type of activities. OLTP, i.e. on-line transactional processing, is a database with a specific scope. It processes queries in real time, performs specific processes at a given time. For example, it supports orders in the online store, online reservations, online payments. It is always based on a certain piece of data and implements current processes in the company. The main goal of OLTP is to have as little latency as possible. It supports a lot of client activities, so the speed of process execution is important. Therefore, OLTP works on the latest data, not historical. For best performance and continuity of availability, they do not reference historical resources.
OLAP, i.e. data warehouses, analyzes extensive, complex queries. They are based not on a piece of data, but on all that is needed for the process. They use historical and current information. They are not used to perform smaller queries in large numbers on an ongoing basis, because they do not perform actions in real time. Their purpose is not to support customer transactions, but mainly serve the internal needs of the company. They are used to obtain global data, important from the point of view of building a business, functioning of departments, making strategic decisions for the company.
Both of these systems are used for different activities, they complement each other. By using both, you can simultaneously ensure high performance, availability and speed of query execution (for example, shopping in an online store), while collecting and analyzing historical data.
Data management and analysis in a company - data warehouse or data lake? Differences
Both the data warehouse and the data lake are used to store information from various sources. However, there are significant differences between them. With the use of a warehouse, structured data is managed and categorized. A data lake, on the other hand, is used for information that is unstructured and unorganized.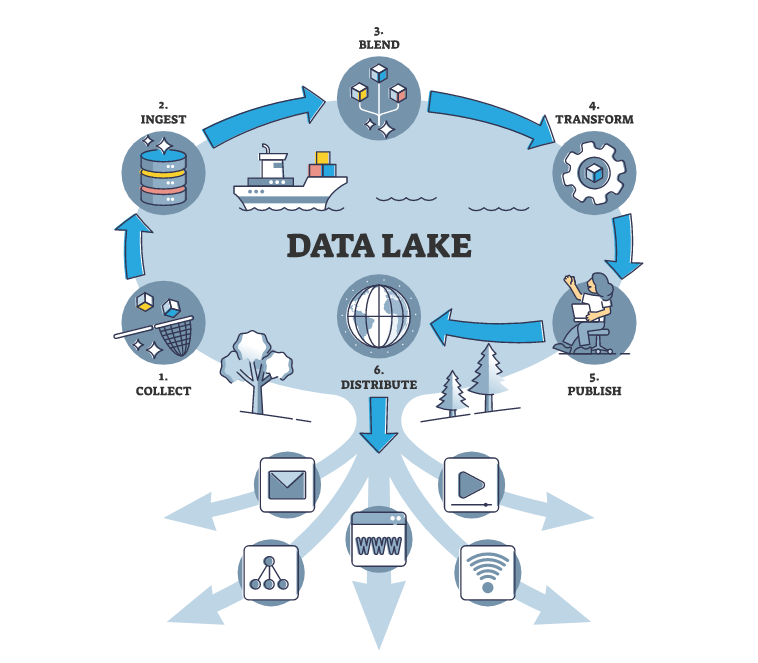 The information available in the warehouse is already sorted - the process of their organization and ordering occurs immediately after their import. On the other hand, in the data lake there is a collection of data, without division and structuring. It's already happening outside of him. There are companies that use both methods of data management. All information that has not been transferred to the data warehouse then goes to the lake. The organization deals with their organization and use later (when they are needed), and business-relevant data is passed through warehouses for analysis and reporting.
If you want to use only structured data from internal systems, divided into categories, then choose a data warehouse. The data lake will collect all other information that you do not need for analysis at the moment and have no structure. They can be useful when an enterprise wants to look at custom information. These will be, for example, logs.
Case study - sales or production performance analysis
Thanks to the implementation of a data warehouse, you can effectively measure the results of your company in many respects. You will perform a Case Study of the sales model and marketing techniques you have implemented. Thanks to the collection of data from many sources, you will base analyzes and statements not only on the basis of correlation, but also taking into account global information that will show the direct impact of specific actions. You will verify the methods, as well as check whether the chosen strategies are effective. This will allow you to withdraw or mute offers, marketing campaigns and activities that are unprofitable and allocate more resources to profitable activities.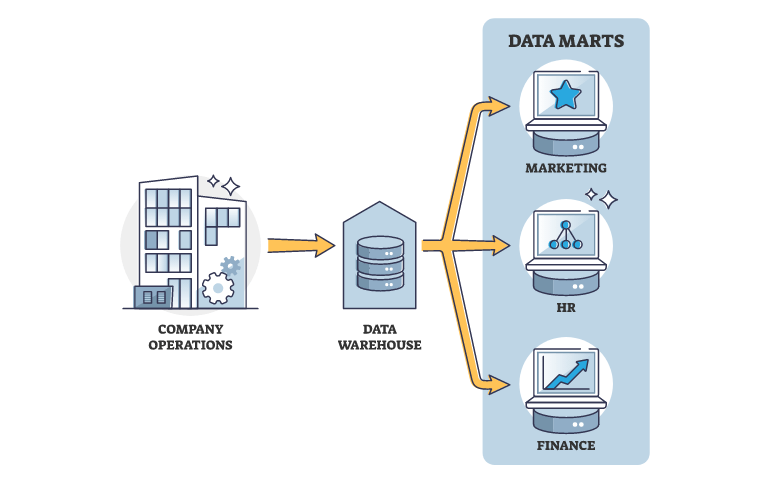 Data management and analysis in the company allows for the development of any type of enterprise. The data warehouse, thanks to which analyzes and reports will be made, enables the verification of production efficiency and logistics activities. Case studies are the starting point for taking new actions, choosing effective directions for the development of the company, but also planning the expansion of the company.
If you want to implement a data warehouse and have any questions - contact us. We will be happy to advise and indicate the best solution for your company.
If you want to implement a data warehouse